Top 5 Best SD Cards of 2020
This article will help you choose the best all rounder SD card to serve your purpose. You know the drill, without an SD card it's a living hell for those whose camera is work. Here's a comprehensive guide on the best SD cards available in the market. Your digital camera without an SD card will end up like a pricey paperweight, it's essential to get hold of good quality SD cards. So, go ahead and give this article a read and see for yourself, perhaps, you may wind up ordering one!
If you own a DSLR camera or camcorder, you're likely to need an SD card to store all your images and video shoots. Many smaller cameras, drones, and gaming consoles have switched over to microSD cards for the sake of size issues, so make sure your camera needs an SD card and that it doesn't already include one that works well enough. 
Although cards with high storage capacities may seem useful, however, we do recommend having multiple 64 GB cards on hand rather than spending more money on a 128 GB card. Because, an SD card also serves the purpose as a portable storage to laptops, especially for people who have workflows that require using multiple machines. So, 64 GB card offers plenty storage for professional photographers, or those who are in media industry. We think it's best to remove, upload, and clear your SD card on a regular basis, and that saves a lot of money, plus how can you enjoy all those beautiful photos if you don't have enough space to capture it in the first place.
Here's our pick on best SD cards —
SanDisk Extreme Pro (64GB):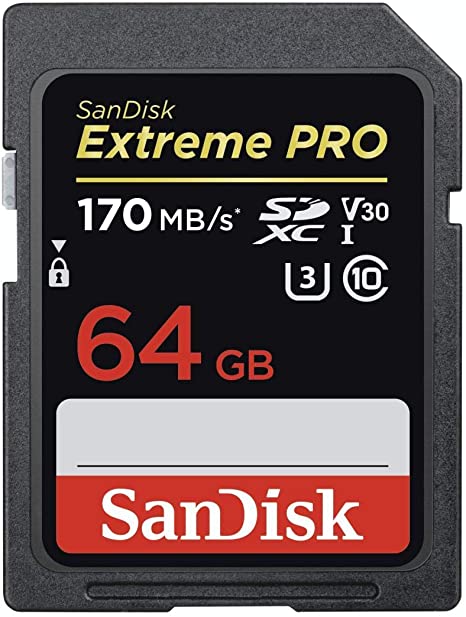 The SanDisk Extreme Pro is a Class 10, U3, V30 card, with a quoted read speed of 170 MB/s. That makes it fast enough to record 1080p and 4K video. In our CrystalDiskMark read and write tests, it performed at at little more than 93 MB/s and 84 MB/s, respectively, easily beating out cards from other manufacturers. The best ratio of read and write speed, as well as, high speed real world performance during burst shooting. It's an affordable option that outperforms most other SD cards in the market.
SanDisk Extreme (64GB):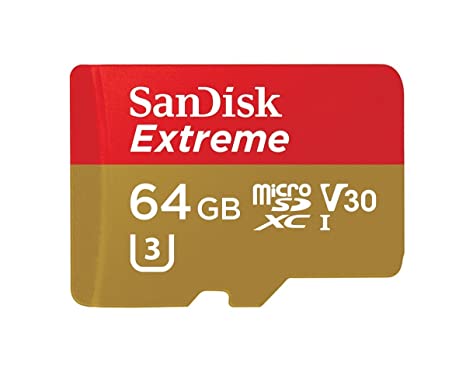 The latest generation SanDisk Extreme 64 GB is one sleek must have SD card, same class 10, U3, and V30 ratings as the Extreme Pro model, making it a suitable card for shooting photographs as well as capturing 4K video. Great for burst shooting and typically cheaper than the Extreme Pro model. The 128GB model is available for few cents lesser but if you want extra storage, its a good pick. And if you're looking to upgrade, then Extreme Pro would be an ideal choice.
Transcend SDXC (64GB):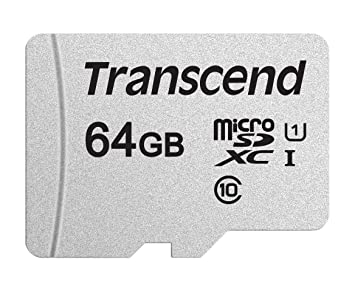 The read speed is up to 285MB/s and write speed is up to 180MB/s. This SD card has blisteringly fast data speed, great for raw shooting and 4K video coverage. If you're into shooting raw images, you surely want to get this card. This card can handle sequential burns of the highest quality imagery, as well as, capacity that allows for sufficient storage to avoid having to swap the media files every minute.
Lexar Professional 633x SDHC: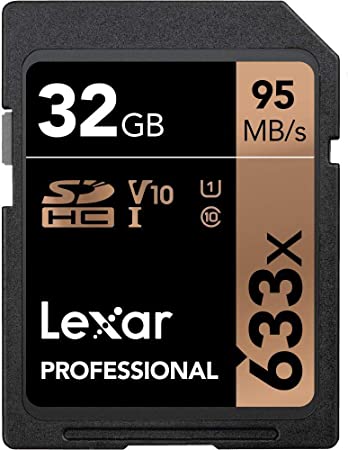 The card type is SDHC and SDXC, the capacity is up to 512GB. The read speed is up to 95MB/s and write speed is up to 45MB/s. The SD card is suitable for both photography and 4K video shooting at pro level. The Lexar Professional 633x is the cream of the SD memory card crop when it comes to capacity, and to our surprise, it is designed for DSLR owners. The card has high speed data transfer, and accelerates a pro workflow.
Samsung PRO Endurance: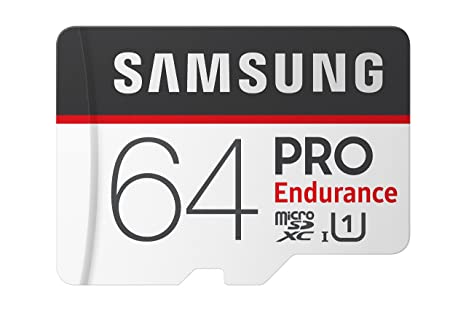 The card type is microSD with SD adapter, and the capacity can stretch up to 128GB, the read speed is 100MB/s and write speed up to 30MB/s. This SD card is best for action cameras, dash-cams, and security cameras. So, here's the thing — the Samsung PRO Endurance cards cost a shade more than bog-standard microSD cards with larger SD card sized adapter, the pitch here includes that its longer lasting. Indeed, an industry best 44,000 hours of continuous video recording is promised by this SD card. 
Now, when picking the best SD card for yourself, there's a couple of things to keep in mind before you dive right in looking at the GB and cost. The read speed is important when you're copying data from the card to a computer, and of course, when you're reviewing photos on the camera. Plus, more couple of things you must checklist before buying an SD card —
Class 10 rating:

This rating guarantees the card has a minimum sustained sequential write speed of least 10 MB/s—the bare minimum for shooting 1080p video. (The other speed classes are 2, 4, and 6, which also denote the minimum write speed in megabytes per second.)

U3 rating:

Since most cards now have speeds faster than 10 MB/s, Ultra High Speed classes further differentiate their performance. U3 is required for 4K video and designates a minimum write speed of 30 MB/s. Unless your device shoots only 1080p video, it's worth confirming that a card has a U3 rating, which gives you the option to shoot 4K.

UHS-I bus mode:

Bus mode is a standard that dictates how different generations of SD cards work. All the point-and-shoot cameras we recommend support at least UHS-I bus cards. The standard is backward-compatible, meaning you can use a faster UHS-II card with a UHS-I camera, or a UHS-I card with a UHS-II camera. But you don't get the full speed of UHS-II unless both camera and card support UHS-II, because it requires an additional row of physical pins to achieve its extra speed.

64 GB capacity:

A 64 GB SD card should be spacious enough for most uses, and such cards are less expensive per gigabyte than 32 GB cards. If you need more room to store your media, many 128 GB SD cards cost about the same per gigabyte as their 64 GB counterparts. Check your device to confirm it supports SDXC (extended capacity) cards (meaning cards 64 GB and higher) before buying one. If not, stick with 32 GB to ensure that your card works with your device.

Reliability

: An SD card holds the only copy of a photo between the time you take it and when you copy it to a computer for editing, so it's important to get a reliable card from a reputable manufacturer, such as SanDisk, Transcend, or Lexar, to minimise the chances of something going wrong. Many SD cards come with a lifetime or 10-year warranty, and the SD Card Association says most SD cards have a lifespan of about 10 years with "normal usage."

Video Speed Class:

The V6, V10, V30, V60, and V90 ratings guarantee minimum levels of performance for recording video and indicate the write speeds, in MB/s, for video. Most cards now have their Video Speed Class rating included on the label. The SD cards we tested ranged from V30 to V90.
We hope this article has served its purpose by bringing you information that you're looking for about SD cards. So, now that all that has been cleared off the way, get going on order your SD card now. These are the best or the least to say, most preferred SD cards in the market today.